Government Floating Homoeo Dispensary Project Alappuzha
Floating Homoeo Dispensary project is an innovative step from the department of homoeopathy Kerala, to bring health care services to the people of kuttanad and certain waterlogged and backward areas of Haripad.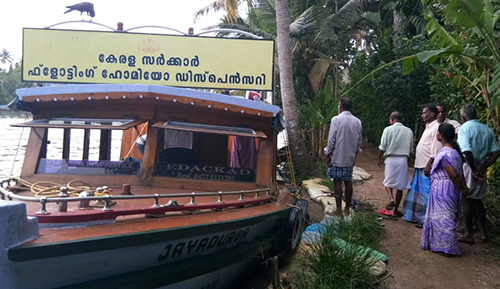 Kuttanad is a place of scenic beauty full of lakes and lagoons, small islands, green paddy fields, marshy lands and it lies below sea level. And kuttanad is one of the famous backwater tourist spots in Kerala. This water bound marshy area is prone to infectious diseases and epidemics spreading through water and vectors like mosquito, birds, rodents etc. Majority of people living in this area are socially and economically backward and they are mainly farmers, agriculture workers, inland water fishermen, labors etc. In this scenario Homoeopathy department started first Floating Homoeo Dispensary at kuttanad on June 2013
As the first floating dispensary was a great success and as per the demand from the people of these areas two more floating dispensaries were started at Haripad and Champakkulam on September 2014 and September 2015 respectively
The area which comes under this project has certain geographic peculiarities. Since Kuttanad lies below sea level, this area is prone to intermittent flood during heavy monsoon. Lack of hospitals, motorable roads and other infrastructures adversely affects the living condition of people of this area. Majority of people do not have access to potable water and proper toilet facilities. All these favors sudden outbreak of epidemics.
Excessive use of fertilizers and pesticides for agriculture purpose has produced many adverse effects. Incidence of cancer is increased. Incidence of certain life style diseases like diabetes, hypertension, dislipidemea etc also increased which without proper treatment endangers the life of the people. During flood the region gets isolated from the rest of the land area and chances of epidemic outbreak increases and this without proper medical intervention will be catastrophic.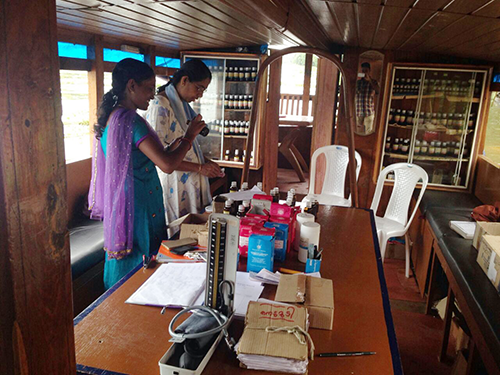 Due to lack of motorable roads, water transport is the only accessible way for the people to hospitals. This poses a great challenge to children and geriatric patients. So as a way out from all these problems, the Department of Homoeopathy planned of floating dispensaries so that health care services can be provided to the people of this area easily
Floating dispensary provides its services mainly in Kuttanad and Karthikapally taluk.
Floating Dispensary kuttanad. (Boat:1) provides its service to 21 centers of Kainakary, Nedumudy, Pulinkunnu, Kavalam gramapanchayaths and eastern parts of Alappuzha municipality having a population of approximately 1,50000.
Floating Dispensary Harippad (Boat no:2) provides its service to the 19 centers of Thrikkunnappuzha, Arattupuzha, Karuvatta and Purakkad gramapanchayaths having a population approximately 1,50000.
Floating Dispensary champakkulam(Boat no:3) caters it's services to 15 centers of Champakkulam, Nedumudy, Thakazhy and eastern parts of Ambalappuzha south gramapanchayats having a population approximately 100000
Motor Boats for floating dispensaries are hired annually through competitive tenders. The boat should be more than 15 tonnage, 14 meters length, 4-5 meters width and 1.8 meters height. The boat must have stability certificate, competency certificate, fitness certificate, port registration and third party insurance coverage. Interior of the boat is modified for consulting area and pharmacy. A fully fledged pharmacy is running in the boat.
Each Floating Dispensary has a medical team comprising of a Medical officer, Pharmacist, Attender and a Volunteer. The team provides services in the centers daily as per the predefined schedule. Each dispensary has a base camp (boat1 at Alappuzha, boat2 at Thottappally, boat3 at Nedumudy) from where the boat starts every day. The regular service is available on all week days from 9 AM to 2PM except Sundays. On Sundays it will be available on an emergency basis. In emergency situations the boat also acts as an ambulance.
Floating dispensary Kuttanad (boat 1) covers 21 centers, Floating dispensary Haripad (boat 2) provides its service to 19 centers and Floating dispensary Champakkulam (boat 3) provides its service to 15 centers in a prefixed rotator schedule. Date of the next visit will be exhibited in the metal board that has already been placed at each centers. On reaching the floating dispensary at each center, the volunteer informs the people of nearby places and leads them to the dispensary. The volunteer helps the physically challenged and geriatric patients to reach the boat.
There are separate case books and OP cards for the floating dispensary and Attender provides this to the patients. The Medical officer examines the patient and gives prescription and advises. The Pharmacist dispenses medicines as per the prescription from the pharmacy running inside the boat.
Home visits: – The medial team provides medical care to the bedridden and geriatric patients at their home
Schools and anganvady visits: – Medical team regularly visits schools and anganvadies of nearby places to provide medical care. They also provide treatment to learning disabilities and behavioral abnormalities in children.
Flood relief camps: – During flood medical team visits relief camps to provides medical care and advices and distributes preventive medicines for epidemics